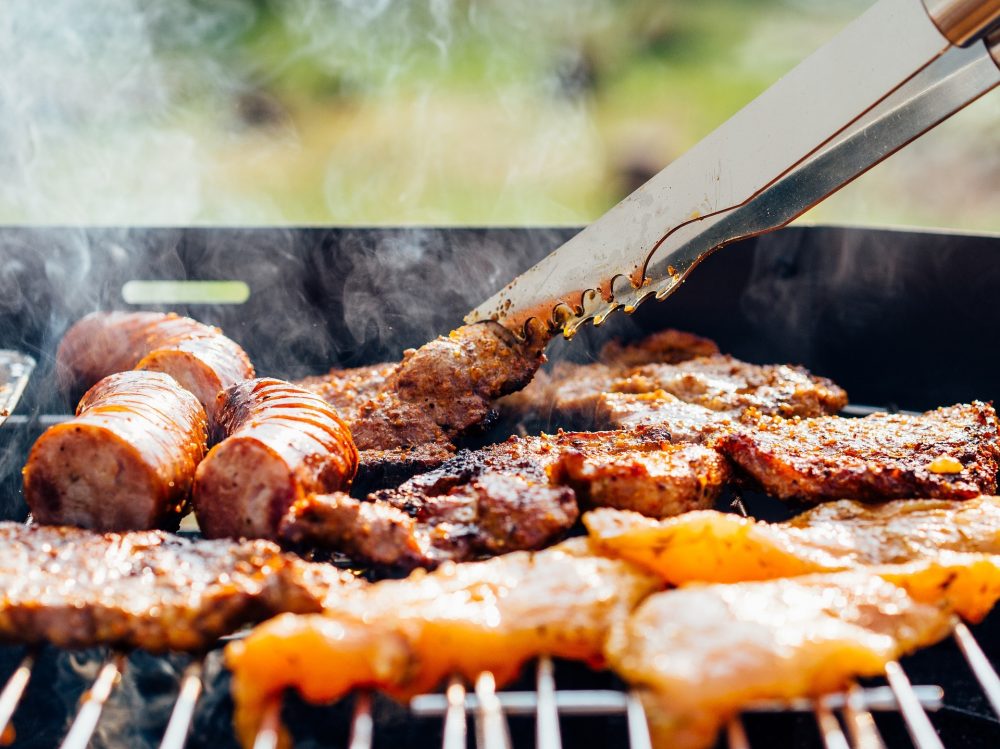 Enjoy the 4th! Celebrate the nation's day of independence since July 4th, 1776.
Because this is a Federal holiday, most of us WILL NOT be working and WILL be spending time with friends and family BBQ-ing the day away.
Yes, July 4th is one day. And yes, it's a day filled with food so I'm offering you some 4th of July food ideas for a healthier America.
Traditional BBQ Fare
Traditionally the foods, as mentioned below, that are consumed during holidays are packed with extra calories, carbohydrates, and fats.
MAKE CHOICES
If you choose to indulge, try to only eat very small portions. Make choices and select foods and beverages that you really want. Pass on those items that are not as important. Without much thought, the sugar, carbs, and calories can add up very easily.
Identify which foods are worth the cost of going off your plan. Half a cup of baked beans is approximately 133 calories, 26 g of carbs and 10 g sugar. Compare this with 1 cup of strawberries, which is 50 calories 12 carbs and 7 grams of sugar. Certain alcoholic beverages are better options too.


Alcoholic drinks, lemonade, fruit punch, juice and soda (100 calories or more)
Hamburgers and hot dogs on rolls with ketchup
Coleslaw and potato salad
Baked beans
Potato chips
Watermelon
Red, white and blue cake
Just reading this list might send your blood sugar and weight skyrocketing as they are loaded with calories. Aside from the cake (strawberries, white frosting, blueberries), you'll notice there isn't much color in the main foods; no green, red or orange. Eating well includes eating with color and minimizing excess sugar and fat.
Pick your poison carefully with these 5 tips
If you want an alcoholic beverage, say no to the potato and coleslaw. Make another sacrifice, if you want more than one drink.
If you know the BBQ menu isn't colorful, offer to bring a green vegetable salad with oil and vinegar or lemon juice.
If you eat your dog on a bun with ketchup, don't add more carbs and fat by chomping down on chips. Or just eat the food naked, no bun.
If you dip into lower calorie foods like vegetables or salad it will offset the excess calories and carbs.
If you avoid sugary or alcoholic drinks, selecting calorie-free iced tea or water saves you 150 calories each serving.
Think about food like fireworks. Create an exciting unforgettable meal with a little bang this holiday.
Jazzed Up 4th Of July Food Ideas
A few ideas to jazz up four July 4th Celebrations while sticking to your healthy lifestyle:
Strawberry infused water or a low-calorie beer or flavor infused vodka (69 cals) with seltzer
Fresh veggies (sliced cucumber, celery, broccoli) or sliced watermelon
Blue cheese and cherry tomato salad drizzled with balsamic vinaigrette
Burgers, hot dogs, steak or chicken
Grilled veggies: Brussel sprouts, mushrooms, peppers, onions, eggplant or string beans
Red, white and blue fruit salad (blueberries & strawberries topped with whipped cream).
Jazzed Up 4th Of July Food Ideas Wrap Up
This 4th of July food make better food choices. Stick with REAL colorful satisfying foods that will keep calories, fat, and sugar down compared with traditional fare. Any change you make to the typical traditional but blah menu is a good one as long as your choices are real food instead of commercially prepared sugar fat and calorie-laden kitchen chemistry.
Have fun this Independence Day! Take pleasure in healthy foods that will give your BBQ a new bang with these 4th of July Food Ideas. Here are more healthy BBQ and beverage recipes to jazz up your July 4th Dinner.